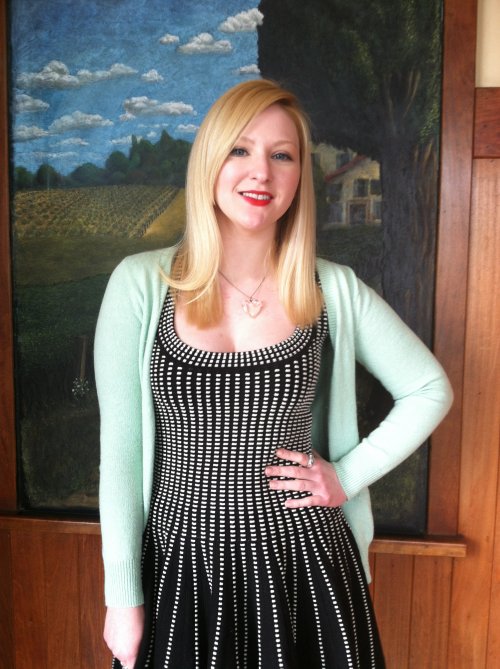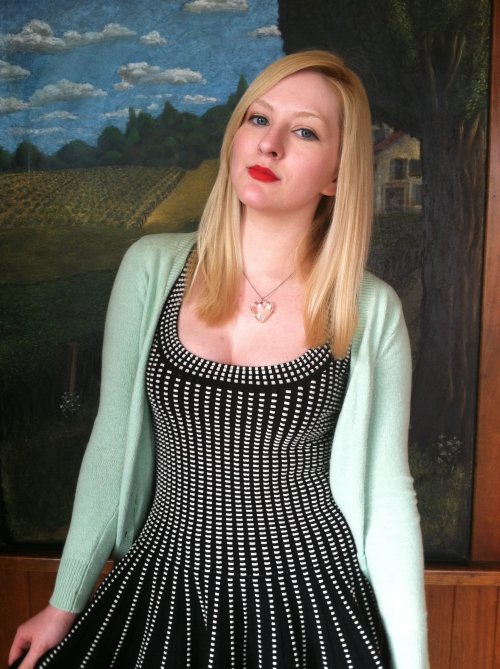 I tend to revolve my daily outfits around a vintage dress, top or skirt. I just love wearing vintage! And to be honest, I guess my love of vintage can also be attached to the utter disdain I experienced of having friends copy things I wore as a wee-lass(I was a very dramatic child;p). That's not to say I haven't done my fair share of mimicking styles, I went through that phase a few times in my adolescence. But whenever I tried my own thing then and was copied, I didn't take the "imitation is the sincerest form of flattery" to heart. Depending on what that imitation is today, I wouldn't be too keen on being copied today which is maybe a teeny percentage of why I lean towards wearing vintage. Occasionally however, I put away the vintage and switch it up and wear something newer and mass produced like in the case of this beautiful knit, black and white dress which came from a very unlikely source.
Wardrobe: Dress – Victoria's Secret (on sale) ♥ Mint Sweater – Forever 21
hearts, meg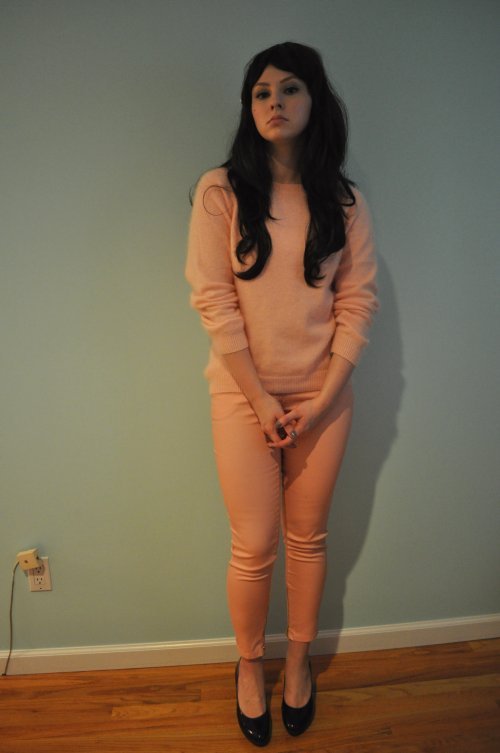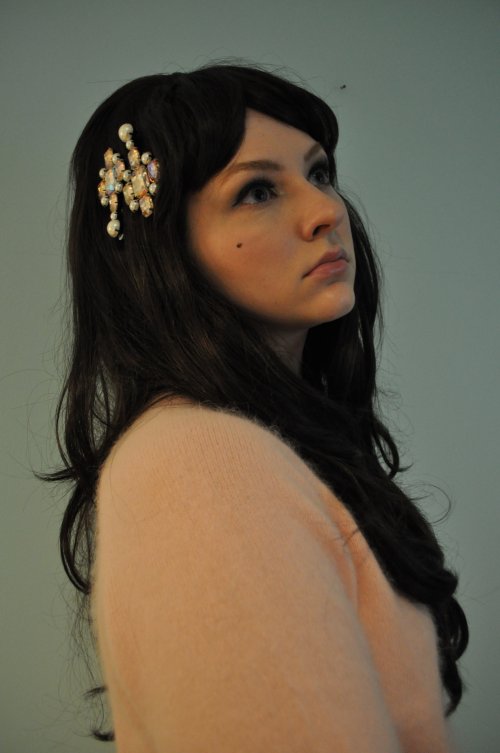 It was a solemn October 31st this year with Hurricane Sandy invading New York state 2 days before Halloween. Luckily my family and friends on Long Island didn't suffer the catastrophic damage that sadly many went through losing their homes and tragically family members. The aftermath of Sandy is something we all in the Long Island area will be experiencing and dealing with for weeks to come(my power conked out once just writing this post). But on the evening of All Hallows Eve I was determined to make the most of my favorite holiday, get dolled up and put on my costume and became
Lana Del Rey in the H&M commercials
. I've been a fan of Lana for a few years now for her unique talent, stage presence and her remarkable blend of style which is like a 1960′s actress with urban and modern influences. Although she has been only in the public eye for a little while, I was amazed that she landed a campaign with H&M and how much the line reflects her original style. I fell in love with the commercial, Lana's cover of Bobby Vinton and wanted to live inside of the video…which inspired me to make it my Halloween costume this year!
Read the rest of this entry »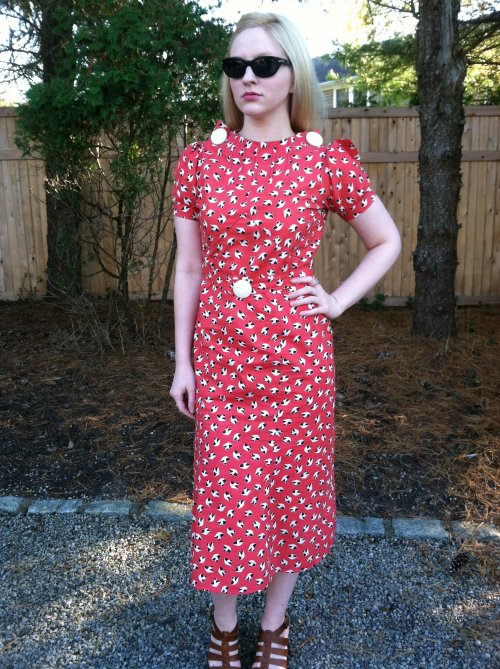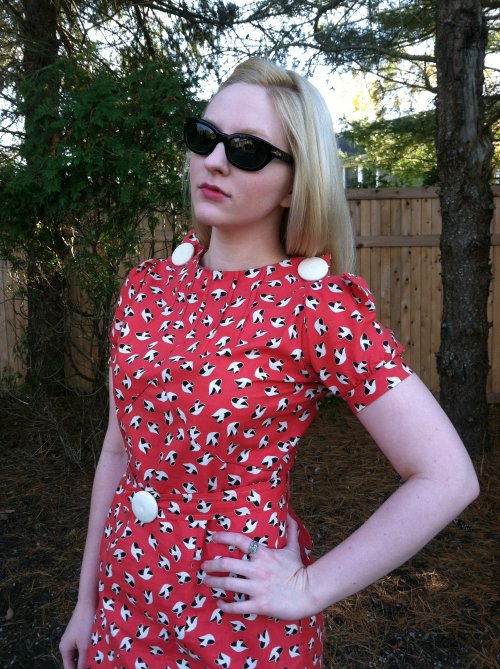 When I laid eyes on this vintage mushroom print dress in an antique store I immediately swooned. Meg Darling(referring to myself in the third person) is a sucker for novelty prints but mushrooms?! Me oh my! But there was a fear inside of me that a cotton, housedress like this one would surely have sufficient stains of dinners past which made me fearful to even touch it to learn the truth and break my heart. Luckily it was one of those rare instances where I was wrong;p This dress is in great shape and I couldn't appreciate all the details in it until I put it on, from the buttons at the shoulders, the detailed seaming at the bodice and the pointed triangles on the puff sleeves…she's a beauty!
Read the rest of this entry »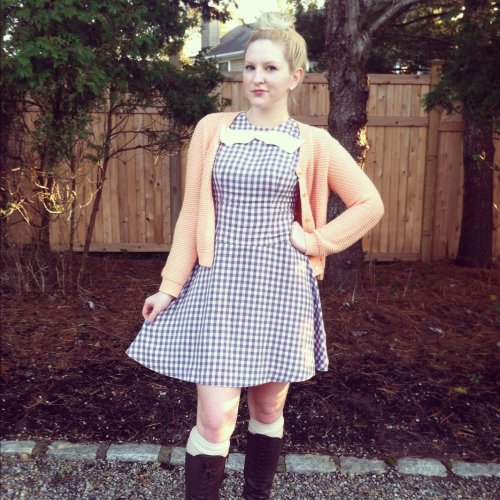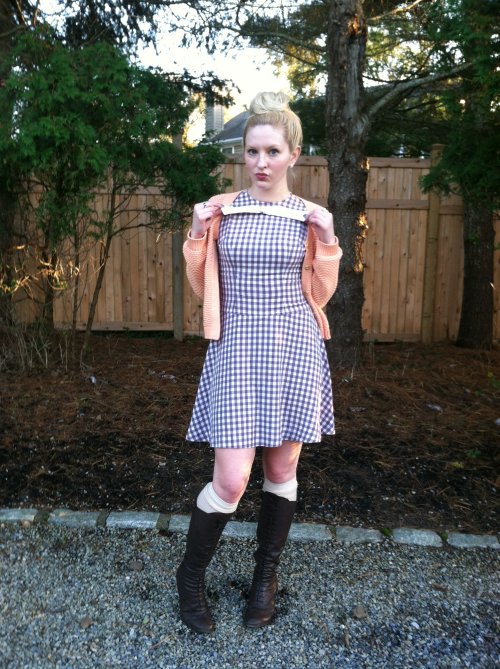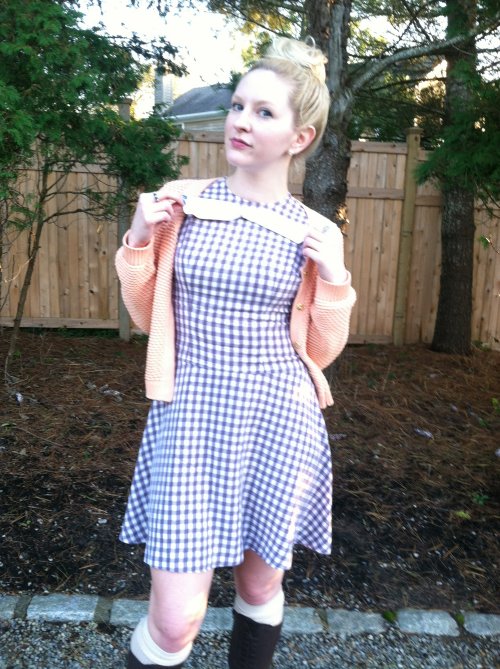 It's certainly beginning to feel like fall and the start of the fall season means bringing back the knee-hi's and boots!
Wardrobe: Dress – 60′s vintage ♥ Sweater – H&M ♥ Socks – Forever 21 ♥ Boots – Century 21, Italian made ♥ Pearls – faux of course! Forever 21
hearts, meg
Recently one weekend I took a little buying trip to the Adirondacks, before the winter cold sets in. And while it was cold and rainy the entire trip I managed to have fun and pick up a few things for the shop….and myself!
Read the rest of this entry »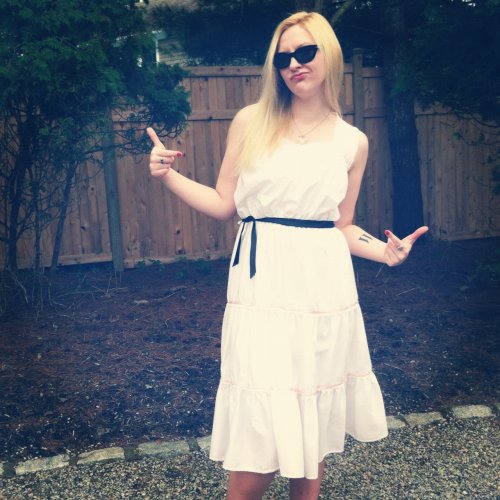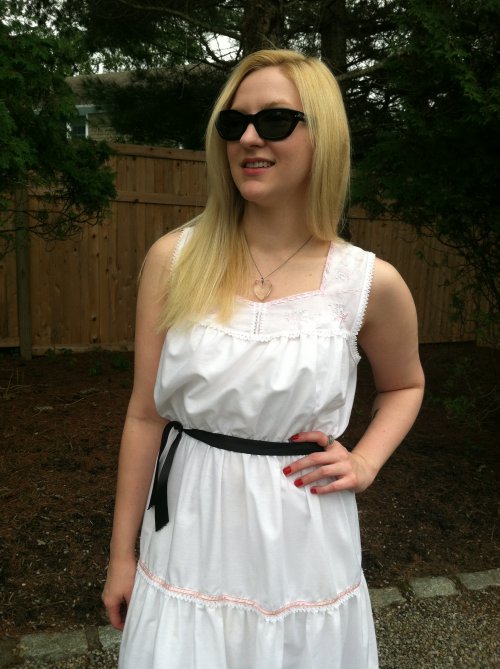 Meg Darling, breaking fashion rules.
Wardrobe: Dress – vintage ♥ Shoes – Urban Outfitters
hearts, meg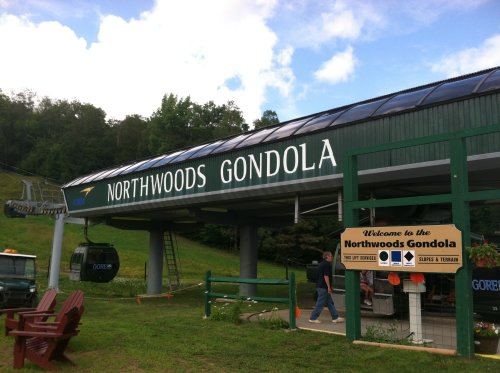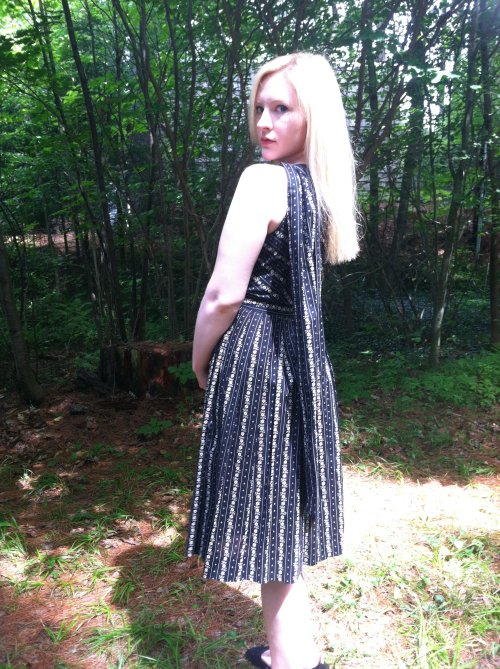 This summer I ventured away from my usual activities I do upstate and went to a ski resort. Yes I went to a ski resort in the summertime which is just about the only time I would really want to be at a ski resort with my not being a fan of winter. Instead of hitting the slopes I took a beautiful yet somewhat frightening gondola ride with my sister and her family.
Read the rest of this entry »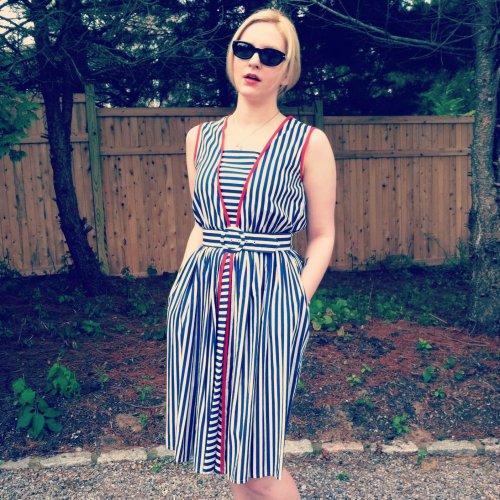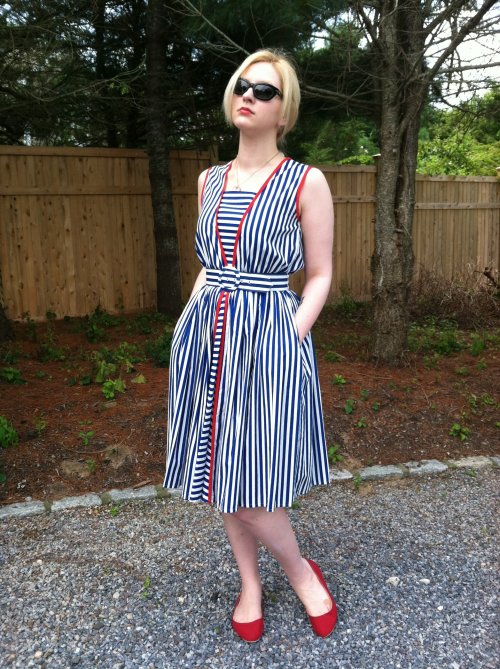 The day of the opening ceremony of the Olympics I decided to be patriotic and wear this blue and red striped vintage dress. This sweet dress is now available in the shop
here
. Go USA!
Wardrobe: Dress – vintage, ♥ Flats – Urban Outfitters
hearts, meg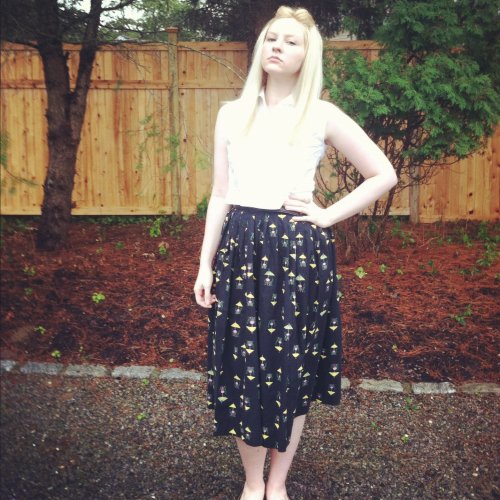 It was a rainy July afternoon when these photos were taken but I womaned up and ripped my denim jacket off to stand in the drizzling rain to snap some quick photos. Unintentionally there was also umbrellas on my vintage novelty skirt. Okay so its a patio set print but whatever!
Read the rest of this entry »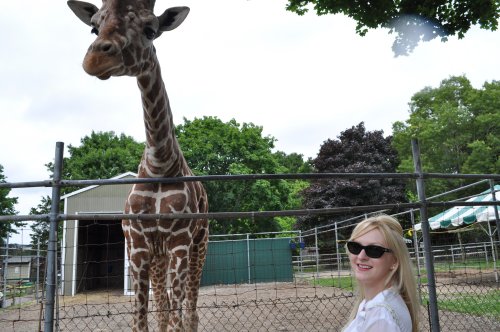 When my sister visited last month we took a little trip with the kids to the zoo and I being the youngest in my family, I am still very much a kid at heart so I enjoyed it almost as much as they did! Humans and animals interacting is and will always be hysterical and me and that giraffe was no exception. In the photo above, you see me posing all hunky-dory with a giraffe but a few minutes after that I decided to put my arm up for a photo and its head swung towards me so fast I got so scared I almost fell over. Then there was me and the talking bird Gomez. I sung to him, he danced, he sang back, I said hello, he said it back, I said "how you 'doin" he whistled at me suggestively. But the kicker was when I began to gloat a little about my ability to get him to interact and he responded by LAUGHING AT ME! That bird is a funny dude.
Read the rest of this entry »